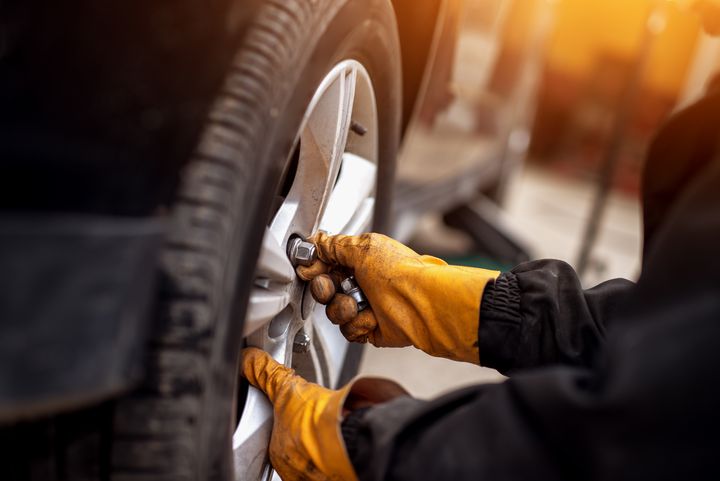 When getting your tires rotated, you are prioritizing your safety as well as saving money. This service also works to extend the life of your tires. Therefore, it is very important to regularly rotate your tires. Refer to your owner manual for how often to rotate your tires. Typically, the recommended rotation interval is about every 5,000 miles. Whether you drive a rear-wheel drive, all-wheel drive, or front-wheel drive vehicle, the tires will wear out unevenly. By getting the tires rotated, you extend the life of your tires and lower the chance of getting a flat tire on the road.
Why Getting Your Tires Rotated Is Important
Tire rotation is important for safety and performance. While getting this service, our technicians will thoroughly inspect your tires to see any abnormal wear and tear and check the sidewalls for cracks and other damage.
The normal wear and tear on the tread of your tires are spread out evenly, and the life of your tires is maximized.
The handling performance of your vehicle is not compromised.
The braking performance of your vehicle does not worsen.
By regularly rotating your tires, you can stay planted and safe on the road.
Getting a tire rotation is important for the safety and reliability of your vehicle, and it helps you save money in the long run too. Call us at 760-739-8838 to get the best tire service in the 92026 area.
Different Tire Rotation Patterns for Tire Rotation
The pattern that our technicians will rotate your vehicle will primarily depend on what type of drive train your vehicle has.
Forward cross: This is used in front-wheel drives. The front tires move to the rear, and the rear tires move to opposite sides of the front.
X-pattern: This is another alternative to front-wheel drive tire rotation. The front and rear tires move to opposite sides and move to the front or rear in a cross pattern.
Rearward cross: This is the opposite of the forward cross. The front tires move to the opposite sides of the rear, and the rear tires just move to the front.
Front to back: This pattern refers to the front tires moving to the back and the rear tires moving to the front.
Side to side: Depending on whether your vehicle has different sizes or non-directional tires on the front axle or rear axle, the tires will be moved side to side.
Six tire rotation: For dual rear tires, the rotation is a triangle for each side of the truck. For each side, our technicians will move the outer dual tire to the inner position, the inner dual tire to the steer position, and the steer tire to the outer dual position.
For vehicles with full-size spare tires, it is important to follow the owner's manual of the vehicle to determine the pattern for tire rotation. The pattern will depend on the drivetrain. This pattern only applies to vehicles equipped with full-size spare tires, not temporary spare tires.
Your Preferred Shop for Tire Repair
Tire rotations are a necessary service you must have on your vehicle, whether it's for your Acura, Audi, BMW, Buick, or any other make. Our technicians at Escondido Autopros- Auto Repair & Hybrid Repair have lots of experience rotating tires for residents of Escondido and the surrounding areas. Whatever concerns you may have about anything related to your tires and wheels, we are here to help. When the time comes to get a tire rotation, come to Escondido Autopros- Auto Repair & Hybrid Repair in Escondido.
Reasons You Should Do Business With Us:
We provide a wide range of services, including oil changes, brakes, transmissions, and engine repair, among others
Our team of highly skilled technicians is committed to providing quality services, ensuring that your vehicle is safe and reliable.
We use state-of-the-art equipment and quality parts to diagnose and repair any issues with your vehicle.
With our customer-focused approach, our prioritize customer satisfaction and aim to exceed their expectations.
We provide a shuttle service and a comfortable waiting room, ensuring that our customers are comfortable while their vehicles are being serviced.
If you are in the 92026 or San Diego County area, feel free to schedule an appointment with Escondido Autopros- Auto Repair & Hybrid Repair today! You can give us a call at 760-739-8838 or schedule an appointment with us online. Escondido Autopros- Auto Repair & Hybrid Repair - Trustworthy auto care for your peace of mind.