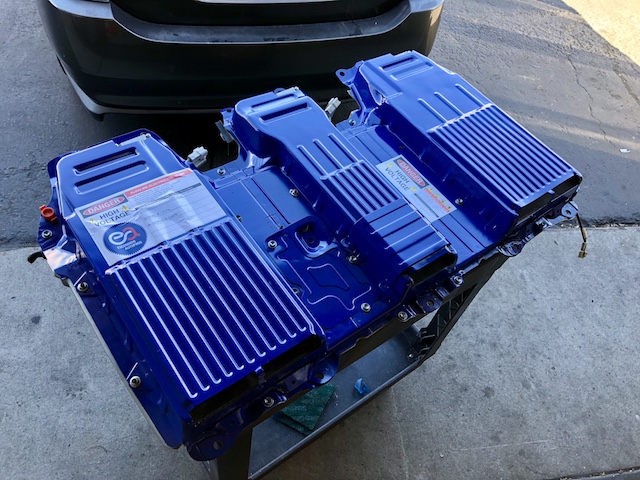 Lexus RX 400H Hybrid Battery - $2650 Installed
If you Lexus RX 400H Hybrid is out of the factory warranty then you are probably looking for aLexus RX 400H Hybrid Battery alternative to the dealership. The Lexus dealership Hybrid Battery is a good unit but at a much higher cost and with less warranty than we offer. Our Lexus RX 400H Hybrid Battery has a 3 Year Pro-Rated warranty which means you can drive carefree with our battery installed in your vehicle.
A whole different type of Toyota hybrid battery
These batteries differ from normal Prius and other Toyota hybrid vehicle modules. They carry an 8 cell   9.6 V module system which are compactly built in 3 different casings. Each casing is rivetted together, and is not as easily accessible. Did you know that your Lexus RX 400H Hybrid Battery is under the rear seat of your RX 400H. Our professional installation is quick and careful ensuring that your interior is reassembled in the exact condition it was before the repair. We are meticulous and clean during our hybrid battery installation to ensure that you only have a positive experience when we replace your battery.
Lexus RX 400H Hybrid Battery Warranty
Every Lexus RX 400H Hybrid Battery that we install is available with a 3 Year Pro-Rated peace of mind warranty. If you have a hybrid battery problem during the warranty period just give us a call and we will replace it at not charge to you. Its that simple, we guarantee ourLexus RX 400H hybrid batteries.
Make us your first call for Lexus RX 400H Hybrid Batteries
Let us save you hundreds when compared to the Lexus dealer when you shop for Hybrid Battery Replacements for your RX 400H'Hybrid Battery. You will appreciate our customer service and warranty as well.