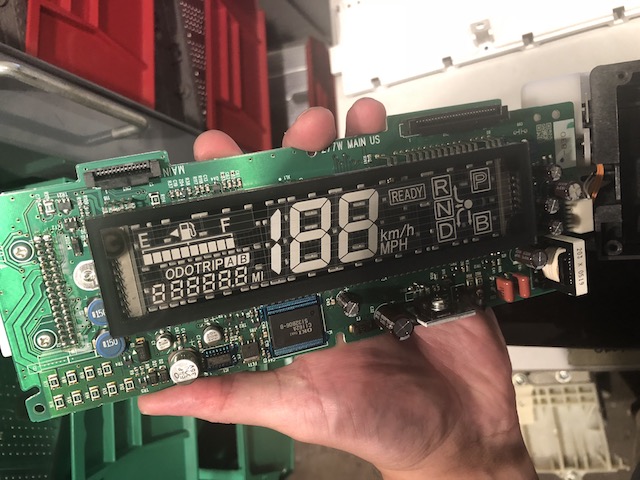 Toyota Prius Combo Meter Repairs in San Diego | Escondido, CA
It's a scary feeling when your combination meter starts to flash on and off. Sometimes the Prius combination meter wont turn on at all, and sometimes it will fail in certain areas like the fuel gauge. These are warning signs that your Prius combination meter is beginning to fail and in need of Prius combo meter repair. Don't get stuck on the road without your speedometer or fuel gauge functional. We offer this Prius combo meter repair here at Escondido Auto Pros. We offer expert repairs for All hybrids in San Diego | Escondido, CA. Trust the experts when it comes to your Prius repair!
Prius Combo Meter Repair Process
We repair/refurbish your combination meter so that you aren't stuck with another one that doesn't have the correct mileage. We will remove the meter, refurbish it and have it back in your vehicle in no time! Most services will be a one day turn around. Don't send yours out to an online company, which could have your vehicle out for days. Why not have that vehicle back to you the same day? If you make an appointment, we have loaner cars available! Save hundreds if not thousands from dealership prices! Call us to schedule your Toyota Prius combo meter repair service today!
We also offer the following Hybrid Repairs:
Hybrid Battery Pack Inspection
Hybrid Battery Pack Conditioning
Hybrid Battery Pack Replacement
Auxiliary Battery Replacements
Auxiliary Battery Repair
Diagnosis of warning lights and battery problems
Cooling fan and radiator replacement
Inverter coolant service
Water pump replacement
Hybrid transaxle service
Clutch repair
Air conditioning & heating
Brake repair
Engine repair
AND MORE!