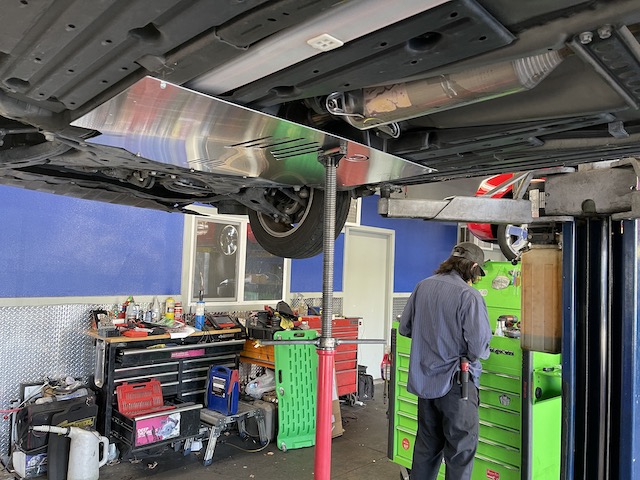 Prius Catalytic Converter Repair
A catalytic converter reduces toxic gases and pollutants in exhaust gas from an internal combustion engine into less-toxic pollutants by catalyzing a redox reaction (an oxidation and a reduction reaction).
What Causes The Catalytic Converter To Go Bad? 
When your internal combustion engine starts to misfire or burn excessive amounts of oil, the contaminants will not only foul up your Oxygen sensors, they will also clog or burn up your Catalytic Converter. This is why having a check engine light diagnosed immediately is key. Your $300 repair might turn into a $2500 repair! In some cases, your Prius might need a new engine, but don't wait! Keep burning oil and you will need an engine & catalytic converter!
Why Protect The Prius Catalytic Converter?
Unfortunately...the Toyota Prius Catalytic Converters have precious metals inside that are valuable. This has made them a target for thieves throughout California. Another issue is that these cannot be replaced by an aftermarket catalytic converter because of strict California exhaust laws. If your insurance will not cover this, it is best to install a Cat protection shield. It's not a guarantee that thieves won't steal the Catalytic converter from your vehicle but it is a great theft deterrent.
What are the signs you need a new catalytic converter? 
Check engine light with a code of P0420
Failing smog check
Poor engine performance
The vehicle will not start or starts for short periods only
Excessive noise coming from the exhaust
We Have Cat Shields In Stock!
If you are in need of a Cat Shield, then you're in luck! We are now keeping these in stock for our Prius customers. Currently, in-stock shields are for 2004-2009 Toyota Prius only. If you would like one for a different Model year please contact us and we can have one ordered.
We are...
ASE Master Certified Technicians
RepairPal Certified Shop
You can count on our team at Escondido Auto Pros to work hard to service your Prius repair needs. We have the experience and the expertise to get the job done, and we want you to feel confident that you'll be able to get back on the road. Our team doesn't cut corners, and we'll use the best diagnostic equipment in order to figure out what your vehicle needs! Give us a call today if you have any questions about your Prius Catalytic Converter!