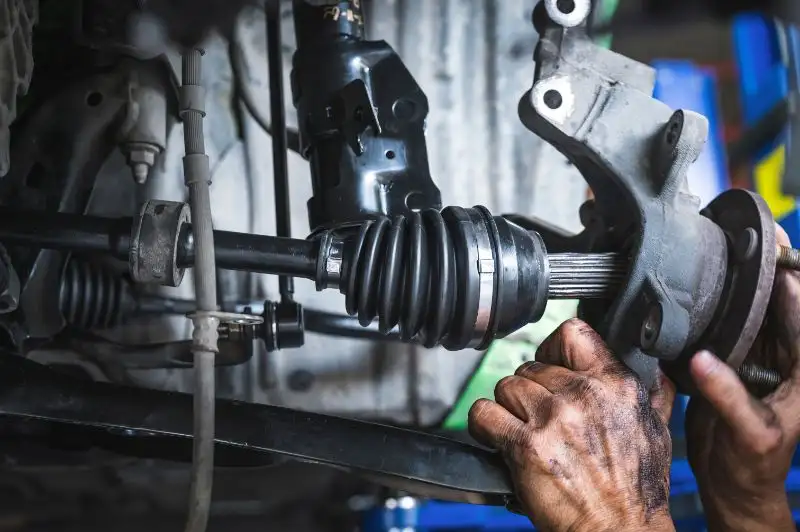 Have you been told that you need new CV Axles? CV axle repair is a common maintenance item on todays vehicles. All front wheel drive vehicles are equipped with CV or Constant Velocity Axles. The CV axles have a tough job and over time they may require replacement. Read a little more and find out why we are the best choice for CV Axle repair in your area.
Repair vs. Replacement
There was a time when it was economical to do CV Axle repair instead of replacing the axles. With the number of front wheel drive vehicles on the road these days the cost of CV Axle replacement has dramatically decreased and it is now cheaper to replace worn or leaking CV axles with new or re-manufactured axles that come with a 3 year or 36,000 mile warranty.
Types of CV Axle Failure
Leaking CV Axle Boots – CV axle boots will eventually dry out and crack or shrink and cause the CV axle grease to leak from the sealing areas. Eventually the axle will run out of grease and fail. We recommend replacing all leaking CV Axles when recommended by your local repair professional.
Torn CV Axle Boots – A torn CV axle boot is a sure sign of impending CV Axle failure. Replace all CV axles with torn boots as soon as possible.
Clicking or Clunking CV Axles – A noisy CV Axle means that the damage is already done and the axle is now unsafe for normal operation.
We replace CV axles in the following vehicles:
Honda
Acura
Toyota
Lexus
Scion
Ford
Chevy
GMC
Saturn
Buick
Jeep
Volvo
Range Rover
BMW
Audi
Nissan
Infiniti
Prius